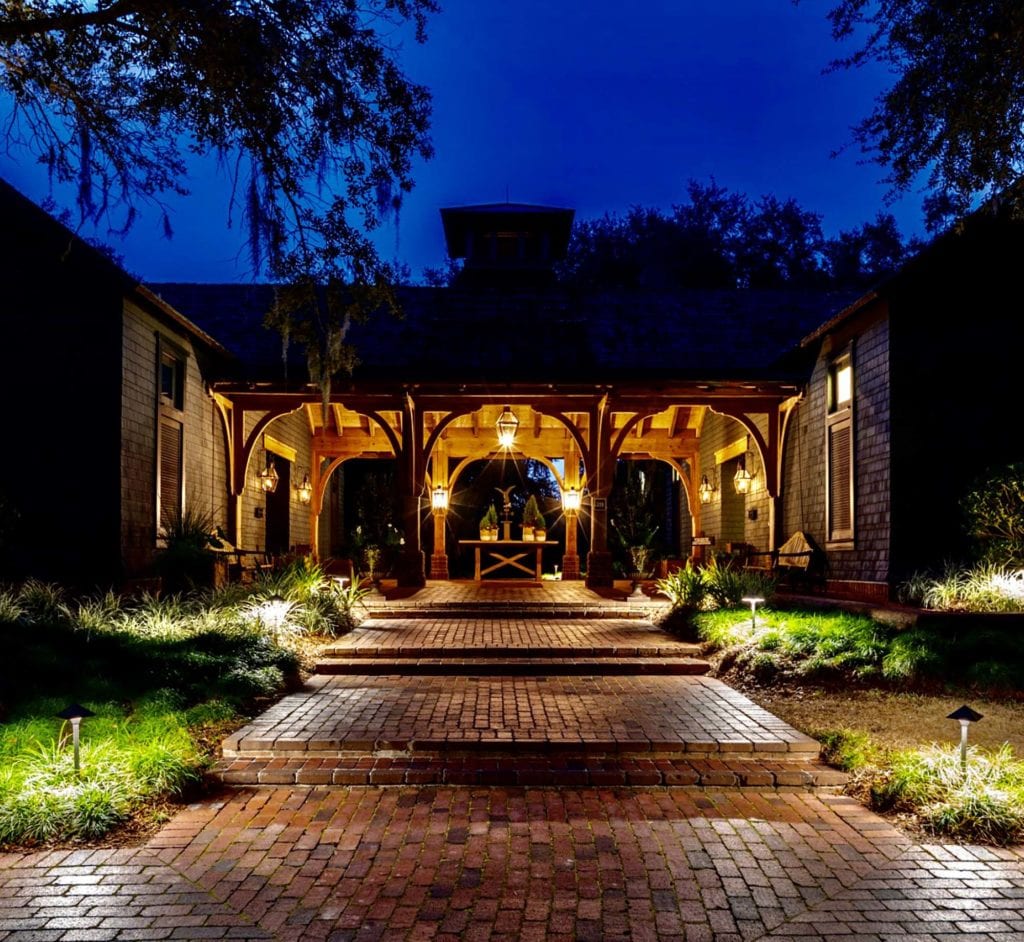 As demand for professional landscape lighting design increases, it may seem easy to run to your closest big box store and purchase some "less expensive" self-install options. DIY projects like these more often than not end up with unreliable results, creating potential safety hazards around your home and property. To create the most reliable landscape lighting design for your property, here are some lighting Do's and Don'ts that may help your decision before buying.
Do – use a variety of lighting. Using the same lights throughout your entire system will make the landscape lighting design appear dull or washed out. Different types of lights serve different purposes, creating depth and ambiance. Those are the things you want when it comes to your outdoor lighting design.
Don't – isolate areas of your landscape. Lighting up an area that is otherwise small and dark transforms the whole space, becoming one less area to worry about when it comes to security. Fewer places to hide, make for fewer possible intruders. A solid lighting plan will help to minimize isolating certain regions. For example, if you only illuminate your walkway, the lights will lead people's focus to a home with many dark spots around it.
Do – utilize multiple layers. Using different angles and staggering lights create silhouettes and layers that enhance the beauty ten-fold. Illuminating the second story of your home from the roofline to peaks adds visual layers. If cost is something you are worried about, installing your landscape lighting in sections is also an option, making NiteLites systems fully expandable to meet budgets. For example, you can start with the areas closest to the house, as it is the most significant focal point, and then work your way out to the surrounding areas.
Don't – rely on solar lighting. While solar light can be great environmentally, the technology for reliable solar LEDs simply does not exist yet. They also rely on the sun shining most of the day to be able to work at their full capacity. Bright, summer days may have your lights on for now, but rainy or gloomy days will not be enough to power them at all. The winter months result in less efficiency by 30-50%. Low voltage LED's are very environmentally and energy-conscious, as they use a fraction of the energy that halogen bulbs do and even less than high voltage systems. They are also more reliable for use year-round, lasting much longer, and always provide the most reliable warm glow every night.
Of course, the most significant "Do" in the landscape lighting industry is to consult a professional. Professionally trained NiteLites contractors take all of these factors, and more, into consideration when designing your custom system. Painting with light is our only business. Call NiteLites today for a free at-home consultation and custom landscape lighting design.